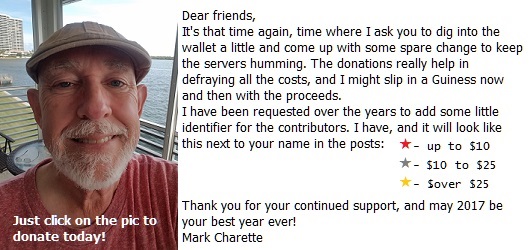 6 Good Clarinet Barrels
Author: Douglas
Date: 2017-02-15 04:58

For Sale: 6 clarinet barrels: Backun grenadilla with cocobolo rings, 64mm $35;
C. Robert Scott, delrin, 66mm $40; AccuBore, B64D, $35 (some external marks);
AccuBore, 66mm, also marked XMO,mint, $40; Guy Chadash, ringless, grenadilla
66mm, mint, $75; Taplin & Weir, 66mm, mint, $45. All prices including shipping.
Contact through email. Douglas Phillips. Included shipping is for USA lower 48
states. Shipping outside this area will have to be arranged.



Post Edited (2017-02-15 20:10)


Reply To Message
Re: 6 Good Clarinet Barrels
Author: donald
Date: 2017-02-17 14:54

HI there Douglas, thanks for your email but I couldn't return a message- I tried several times but it bounced back, very odd. If you still have a Hawkins S for sale let me know, I have a buyer!
d

For everyone else- that Scott delrin barrel is a steal- those are perrrrettty good!


Reply To Message
Re: 6 Good Clarinet Barrels
Author: Douglas
Date: 2017-02-17 21:12

The Backun and AccuBore barrels have both been sold. The other four barrels
are still available.


Reply To Message
The Clarinet Pages
is sponsored by: