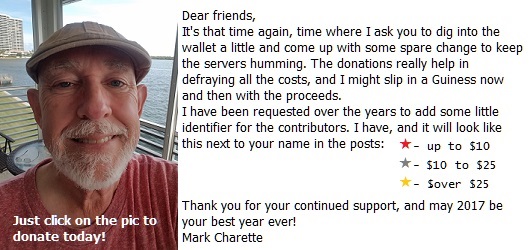 FS: 2 Clarinets - Leblanc Dynamique Bb and Professional Evette A
Author: shmuelyosef
Date: 2017-04-02 23:17
Attachment: Full_view.jpg (712k)
Attachment: Overview.jpg (539k)

A friend of mine has had to give up playing the clarinet for medical reasons and has asked me to sell his clarinets.

EVETTE A clarinet
I don't know much about the history of this clarinet, but it has been used very little. My friend has only had it for about five years, but had it recently overhauled with cork on the upper joint and side keys and nice white leather pads on the lower joint. It is in exceptional condition with very crisp tenon edges, virtually no chips or scratches, and no cracks anywhere (having looked carefully). The horn is polycylindrical with dimensions similar to a modern R-13 and a cylindrical barrel. In searching for information, I found information on clarinets from "Evette & Schaefer", clarinets that had an Evette logo, but said "Sponsored by Buffet Crampon", but that is NOT this clarinet. This one clearly says "MADE BY BUFFET CRAMPON" on all the logos and being a "D-series" was likely made around 1960. The included mouthpiece (don't know if it's original or not) says "Evette & Schaefer" and is in perfect condition as well. The clarinet comes with a Buffet-Crampon double clarinet case in similarly exceptional condition (again don't know if it's original) and an extra MoBa Backun barrel (that plays quite well).
MORE PICTURES HERE: http://www.shmuelyosef.com/Saxophones/Clarinets/Evette_A/
$900 including shipping to continental USA with Paypal FnF payment


Leblanc Dynamique
The Dynamique was the first of Leblanc's "large bore" clarinets...i.e. the design precursor to the Dynamic, the Dynamic H and the "Pete Fountain" signature versions of these. This one was most likely made in the early 50s has relatively new leather pads with cork on the register key and fairly tight keywork. It plays well top to bottom with the included barrel, which is a modern Buffet 64mm barrel with a cylindrical bore; this is very similar to the original, as best I have been able to determine. The clarinet bore measures 0.585" (which I would call medium-large). It is a very easy-blowing clarinet...I found it worked well with both a Grabner K14 and a Fobes 4L, but provided more resistance with smaller bore mouthpieces. Overall a pretty nice clarinet.
MORE PICTURES HERE: http://www.shmuelyosef.com/Saxophones/Clarinets/Leblanc_Dynamique/
Comes in what appears to be the original case.
$700 including shipping to continental USA with Paypal FnF payment

Contact me directly at the email behind my ID


Reply To Message
Re: FS: 2 Clarinets - Leblanc Dynamique Bb and Professional Evette A
Author: donald
Date: 2017-04-03 12:20

I might be interested in buying the Evette&Schaefer mouthpiece from the A clarinet if you're prepared to sell it seperately.
dn


Reply To Message
Re: FS: 2 Clarinets - Leblanc Dynamique Bb and Professional Evette A
Author: eefer ★2017
Date: 2017-04-05 09:29

I would like to purchase the Evette A clarinet and case. You can contact me at <nebuckman@gmail.com>. I don't see an email address for you. Thanks.

Nancy Buckman
<nebuckman@gmail.com>

Nancy Buckman
AACC Symphony Orchestra
Opera AACC
Early Music Society of Northern MD
(and a lot of other ensembles, too)
nebuckman@gmail.com


Reply To Message
Re: FS: 2 Clarinets - Leblanc Dynamique Bb and Professional Evette A
Author: shmuelyosef
Date: 2017-04-09 03:47

A Clarinet is sold.

I can accept $650 (same terms) for the Dynamique


Reply To Message
Re: FS: 2 Clarinets - Leblanc Dynamique Bb and Professional Evette A
Author: Johan H Nilsson ★2017
Date: 2017-04-20 15:07

What is the serial of your Dynamique?


Reply To Message
Re: FS: 2 Clarinets - Leblanc Dynamique Bb and Professional Evette A
Author: shmuelyosef
Date: 2017-04-20 19:58

The serial number is 4782. Charts are scarce for Leblancs...by triangulation, I have several folks guesses that put it in the mid-1950s manufacture.


Reply To Message
The Clarinet Pages
is sponsored by: